Serbian tennis star
Novak Djokovic
His visa was canceled tonight by Immigration Minister Alex Hawke just days before
Australian Open
scheduled to start.
His visa was granted to re-enter the country on November 18 but the saga surrounding his arrival and
vaccination
The situation has been escalating in recent weeks.
The world number one announced in an Instagram post last week that he had been granted a travel exemption to Australia, but was detained upon arriving in Melbourne before midnight on January 5.
He spent the night in an immigration detention center and was interviewed before his visa was revoked.
On January 10, the Federal Circuit and the Family Court of Australia ruled unreasonably void Djokovic's visa, and ordered his release from custody.
At the same time, details emerged about his movements in Europe before he reached Melbourne.
Djokovic tested positive for COVID-19 while in Serbia on December 16. He later participated in a photo session and an interview with a French newspaper the team.
The star later said he didn't know he had COVID-19 when he went to two events – the unveiling of Djokovic's stamp and the Tennis Awards Ceremony attended by the kids.
But he admitted he was intentionally positive while attending the interview with the French magazine, for which he issued an apology on January 12.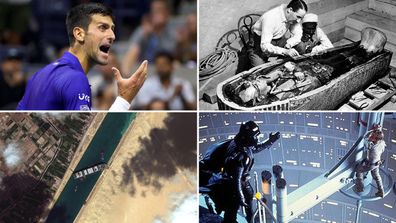 Quizzical – Test your knowledge with daily trivia
Tonight, Immigration Minister Alex Hawke used his ministerial powers to revoke Djokovic's visa, saying the decision was made "in the public interest".